How To Fold Meat for Charcuterie - Roll, Taco, and Roses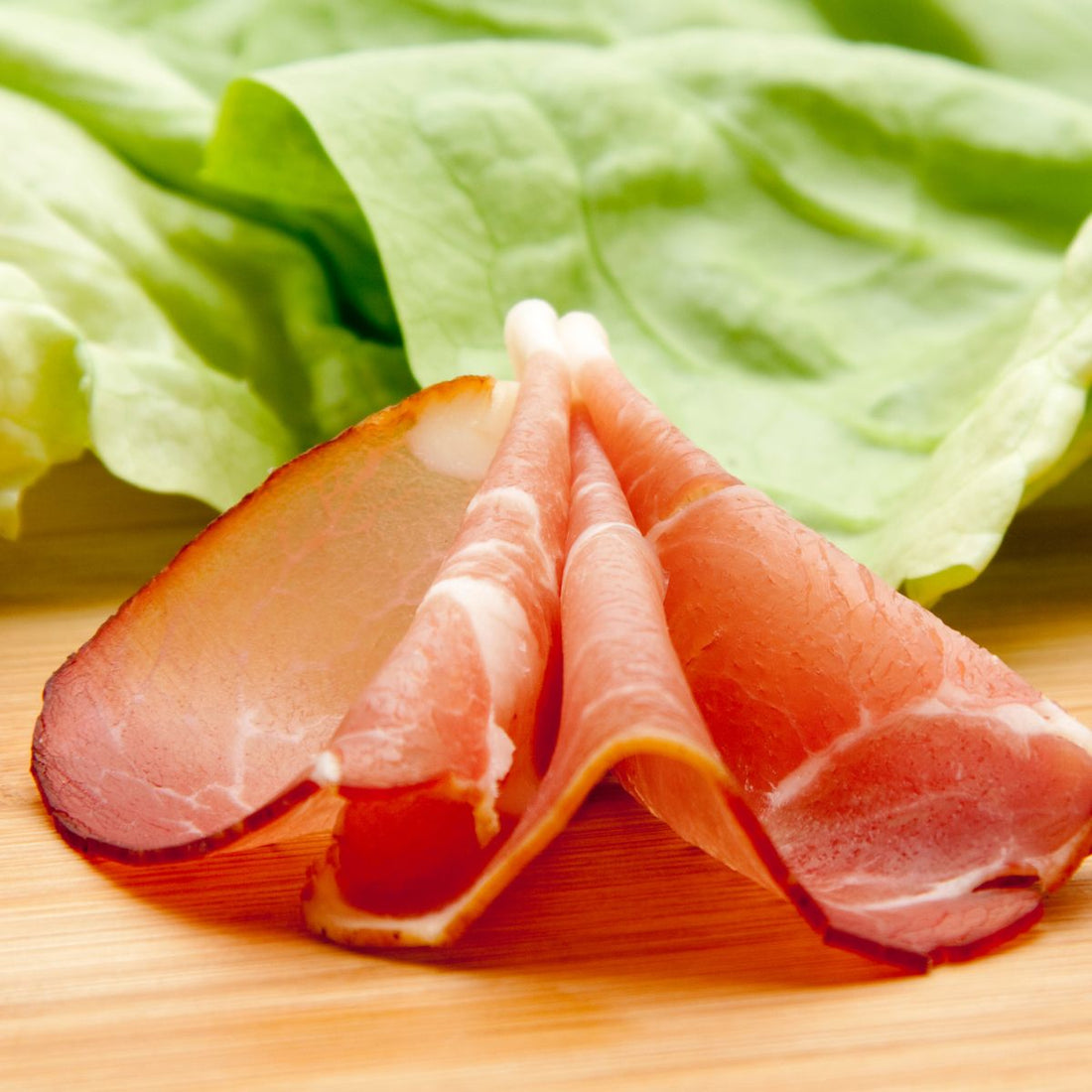 Cured and deli meat are an essential part of the charcuterie board. The tangy, salty flavor melts in the mouth with different cheeses and dips. But having a piece of meat on the Charcuterie board is not easy. We all know charcuterie boards are all about style and elegance so how to present a slice of meat that is aesthetically appealing and easy to eat? You can't just place layers of meat on board to consume.
This is where meat flowers are gaining popularity. The meat roses, fans, and ribbons give a whole new look to your Charcuterie. No matter how complicated they seem, the truth is that these meat roses and other flowers are easy to make. With practice and technique, you can fold the meat slices into something different and beautiful.
Let's hop on to explain what type of meat goes well on Charcuterie before we guide you on how to fold a slice of meat and make beautiful flowers.
Type of Meat for Charcuterie Board?
A charcuterie board is an excellent way to serve appetizers to your guests in a very low-maintenance way. Assembly of charcuterie boards is nothing less than an art.
Though the word Charcuterie refers to French meat, that should not restrict your choice of meat. You can place any meat slices on the board. Generally, we have cured meat slices, smoked or even sausages, or ready cooked meat assembled with other delicacies on a charcuterie board.
However, the most common are the slices of cured meat available from any superstore. The thinly sliced meat layer is perfect for presenting in different ways. So you can have a row of meat, make some flowers, or assemble the slices into interesting ways.
The choice of meat is very important here as it can make all the difference in presentation, taste, and texture. So you can choose Salami, Prosciutto, Mortadella, or Pepperoni, or any deli meats.
No matter what meat you choose, you need to be sure to properly season your charcuterie board to prevent bacteria buildup and make it look beautiful.
Each meat has its own merits. The choice may also depend on the preference of taste, availability, or price.
Let's discuss how you can fold the meat slices for the best effects on your Charcuterie:
Meat Roses And Flowers
Meat roses are the most fun to have on Charcuterie. They are not very difficult to make, and you can use any slice of meat to make different types of meat roses or rosettes. Make this the centerpiece of your charcuterie board!
Keep in mind...from personal experience, your guests will likely not eat the rose. It's decorative, and most people are afraid to "mess it up". So you might want to include more deli meat around the rose.
Another great centerpiece for charcuterie board is a burrata cheese ball (mozzarella on the outside, creamed and spreadable mozzarella on the inside) - see best cheese for charcuterie for more info.
Any deli or cured meat slices can be used to make these beautiful roses, as you can see above - it adds texture to the look, but you'd only need to do this for a very large platter, like if you're making charcuterie for a large party.
To do this, all you need is a wine glass and pepperoni or salami pieces. (you can use any deli meat like ham, mortadella, or pastrami as long as it is thin and pliable).
Choose a wine glass carefully. Its opening will decide the size of the flower for our board. So you can pick a narrow or wide opening depending on what size of the flower looks good on your Charcuterie.
Take a clean wine glass and place a piece of salami on its brim so that you fold one-third piece of the meat inside the glass. Pinch it a bit to make sure it remains in its place.
Use another slice, place it halfway over the first piece, and again fix it with your hand.
In the same way, keep layering the pieces of meat overlapping.
Once you have one layer of meat around the wine glass, keep adding the layer of meat covering the first layer until you have like 4-6 layers on each other.
Pinch the folded slices one more time to make sure they stay in place.
Use a clean plate and keep it on the wine glass opening.
Flip the plate with the glass upside down. Now you should have the rose transferred to the plate.
Smaller Meat Roses
Directions for a charcuterie meat rose:
Step 1 - layer two pieces of deli meat, overlapped, on a flat surface, such as this gorgeous wood board with juice groove (see what we did there?)
Step 2 - Fold it in half lengthwise.
Step 3 - Start from one end and start rolling!
Step 4 - Keep rolling until you get to the end. Optional: secure with a toothpick. (Some meats stay stuck together better than others).
 Unlike the meat flower, these charcuterie meat roses are smaller, so you can make a bunch of them. If guests see several of them (especially if it is secured with a decorative toothpick) - it sends the more friendly message "you can eat me!"
If you're using a wood cutting board, just be sure you don't use food-grade mineral oil to season a charcuterie board. Fractionated coconut oil will ensure your board is beautiful without affecting the delicate flavor of your delicious rose.
Besides roses, Here are some other ways to fold meat:
Roll it Up (charcuterie log)
Don't want to go through the process of making meat roses with a wine glass? Take a thin slice of cured meat like prosciutto salami and roll it up in a cylindrical shape. It can be rolled by itself, or roll it around a pretzel stick!
Fold it Like Taco
Again use any slices of meat and fold them like a taco shell. You can now arrange them in rows or fan out from a corner.
Pile it Up
for very thin slices, fold the whole slice and let it fall back and forth on the board. Keep adding slices the same way so you have a pile of folded layers of meat arranged on the side or around a champagne flute. A tip is to cut the meat slices in half. You can have more servings as each guest will pick up one at a time.
Salami Meat River
This is a little simpler - a salami meat river: you fold the salami pieces in quarters, stand them up one next to the next in a the opposite direction.
Frequently Asked Questions
Should I make only roses on Charcuterie?
Having the popular meat roses on your Charcuterie seems too tempting. Still, we recommend using a few roses on the cheese board. You can use other folding methods like rolls, small triangles, fans, and taco shapes to line up a mixture of meat snack pieces on your cheese board. Here is why:
Even small or medium size meat roses take a lot of meat slices.
It takes a lot of time to assemble each rose.
It's not easy to pull off one slice of rose without touching it all, so not easy for guests to consume
It's so beautiful that no one likes to ruin the board's presentation by damaging the rose, so it stays decorative.
Does a Charcuterie Board Have to Have Meat?
All these options of meat slices look good, but what if you are a vegan? Sure, you can have a personalized cheese board and use an assortment of nuts, fruits, and vegetables on the board. Instead of meat, you can use a snack board. Here is our post on a meatless charcuterie board.
What is the Perfect Dip for Charcuterie?
It largely depends on the meat you are serving, but a cheesy dip goes very well with cured meat, read about the perfect pairing for charcuterie dips, sauces, jams, and spreads. You can make one by adding milk to goat cheese, melting it, and making a thick creamy paste. Now you can add anything from mustard to chopped chives or herbs. 
You can serve some sweet and savory dips like an onion jam, tamarind chutney, or a salsa. Garlic dill and mustard sauce goes very well with slices of meat. A perfect board blends all types of flavors.
Should a Charcuterie board include Cheese?
As we said, a perfect charcuterie combines tastes and textures. Cheese and cured meat go very well together. So cheese is the most important element on the Charcuterie board. Here is our post on what type of cheese you can serve on Charcuterie.
How do you fill a large charcuterie Board?


Use different types of textures. Like soft cheese, delicate meat flowers, and hard breadsticks or crackers. Dips and chutneys, and sauces should have their place as well. Don't forget to add serving knives and spreaders to help guests. Read the complete article charcuterie board for 50 people.
Final Words
Whether you are setting a small or big charcuterie board, it should look elegant, serve a variety of options for your guests, and food should look appealing and have bite-size size. It needs little aesthetics to make everything on your board stand out.
Don't overcrowd food. Use a combination of sweet and savory, and provide plenty of interesting spreads, candied nuts, and dips. Ultimately, it is all about showing off aesthetics and winning some looks of admiration from your guests.
You May Also Like:
Looking for the perfect display for your charcuterie creation?
View our entire collection of dark wood walnut cheese boards - there are many shapes and sizes to choose from. Find your perfect board for your next charcuterie tray!
We are on Amazon, see our storefront here. Use coupon code VBKBLOG10 for 10% off your entire purchase of any Virginia Boys Kitchens on Amazon. Apply the code at checkout.