Charcuterie Box - How to Make One Perfect For Gifting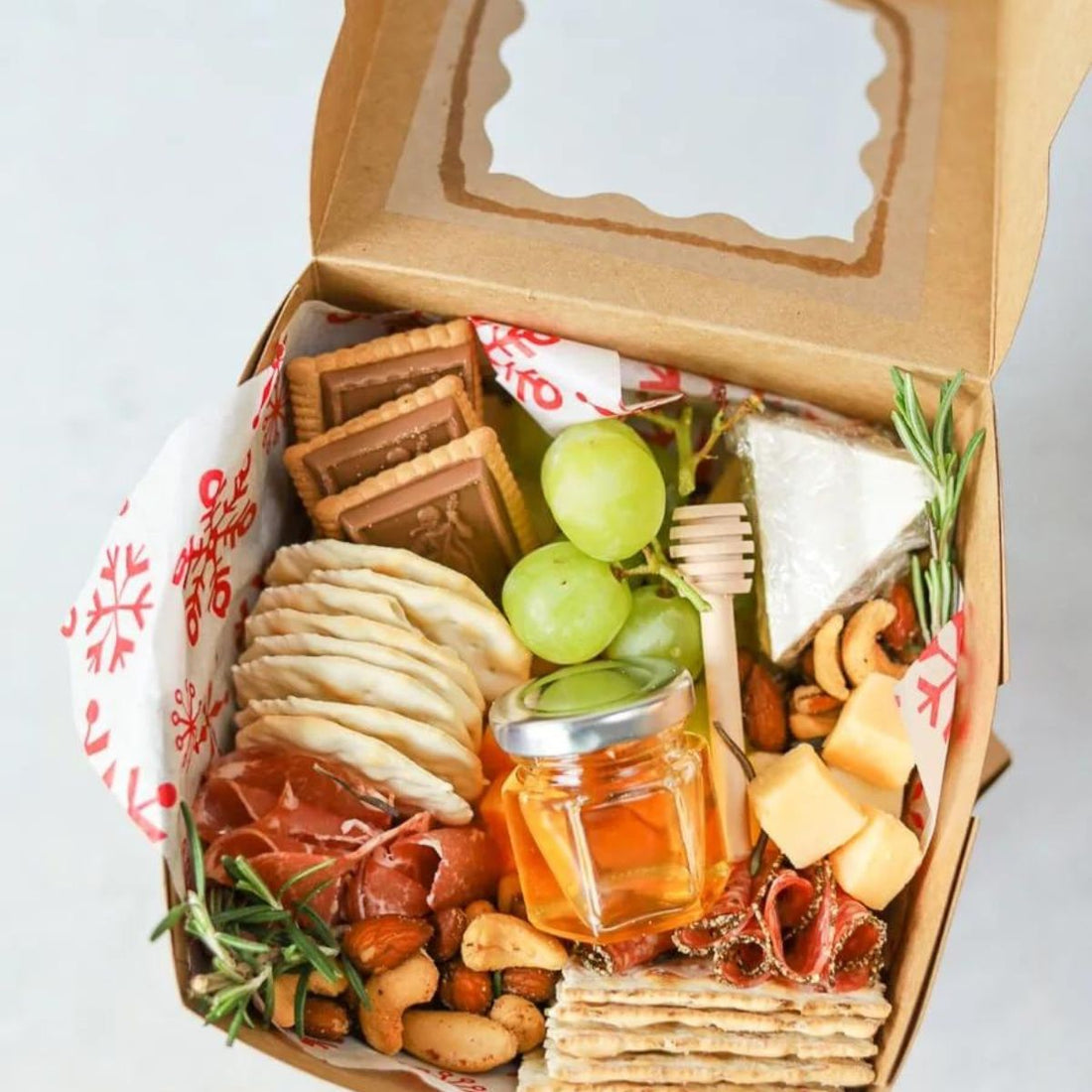 Spending hours on Pinterest can have you going down a rabbit hole, especially when you start looking at charcuterie boards. These boards are filled with yummy foods that are designed to feed a crowd.
And ensure you are not hungry for quite some time. However, have you ever spent any time looking at all the available charcuterie box ideas? Charcuterie boxes are newer than charcuterie boards.
They are still quite versatile. Yet, they can be designed to work for all types of gatherings, as well as gifts. Today, we are going to share everything you need to know about these boxes.
note: If you're looking to make a charcuterie on a wooden cutting board instead, see our other post on Best Board For Charcuterie
What is Charcuterie?
While charcuterie boxes are slightly new, charcuterie has been around for centuries. Charcuterie was first conceived back in the 15th century by the French. At the time, pork was the main cured meat placed on the charcuterie boards.
Today, charcuterie boards are filled with all types of cured meats. Although, if you have made one of these boards recently, or a charcuterie tray, you know that you can fill the board with so much more. Lots of charcuterie trays are piled high with delicious cheeses, fruits, vegetables, and even nuts. There are even basic cheese boards you can make. You won't want to forget about the dessert boards either!
What is a Charcuterie Box?
Photo Credit: ModernMomLife.com 
You might be thinking it is nice to know the history of charcuterie. But you will probably be happier once you know what a charcuterie box really is.
Well, this box is everything you would find on a charcuterie board. It is simply packed nicely, and creatively, inside a box, or other container. Many of the charcuterie boxes we make include sweet and salty snacks.
There really isn't a limit to what you can include inside a charcuterie box. Unless of course, you try to stuff too many items into a smaller type of box. Then you would be limited in a sense. However, in those cases, we would simply recommend getting a bigger box to fill!
Sizes of Charcuterie Boxes
Before you can make your very own charcuterie box, you must make sure you have the size box you need. Individual charcuterie boxes are normally 6 inches by 6 inches. However, you can make larger boxes using 8 inch by 6-inch boxes, 9 inch by 9-inch boxes, or any other size you want to work with.
Consider purchasing small cups for any dips and sauces, as well as items that you don't want to keep loose. You can also use paper cupcake liners if you forget the cups. Small cellophane bags are helpful for those food items that shouldn't be mixed in. They are also helpful with keeping crackers crunchy.
If you are giving these boxes as a food gift, you may want to consider using a reusable container. That way the person you are gifting it to can use the container for years to come.
However, keep in mind disposable containers are just as nice, especially if you take the time to decorate them.
How to Make a Charcuterie Box
There is no hard rule as to what you need to include in a charcuterie box. You can easily search the internet for charcuterie box ideas. However, to get you started, we are sharing a few ideas of what to put in your box.
Start by laying down a piece of parchment paper in the box. This will ensure the variety of snacks you place inside will not touch the box, create oil stains, or transfer flavors.
Begin by adding the focal point of your box. This could be a salami rose, massive cupcake, or other food item that you want to have stand out.
Then pile in the cheese, crackers, fruits, nuts, and sweets. To really make your charcuterie box stand out, tie a very small bottle of wine to the side or top.
Don't forget to decorate your charcuterie box too. Fresh flowers, dried flowers, fresh herbs, and twine can all be used to make it look fancy.
How to Choose Specific Items for Your Charcuterie Box
Crackers
It is very important to put your crackers in your charcuterie box right before you are serving it or delivering it. This will prevent the crackers from getting stale or soggy. Go wild with your assorted cracker choices. Consider whole wheat, pita, or a specialty cracker that contains seeds. You can even choose artisan crackers or distinctive party crackers. Add a few of each to ensure variety.
Cheese
Most charcuterie boxes include hard, semi-soft, and soft assorted cheeses. You can choose to add only one kind. Or you can add quite the variety of cheeses. It's all up to you and what else you are placing inside the box.
Favorite charcuterie boxes combinations of cheeses include:
Sharp or Mild Cheddar
Gouda
Pepperjack
Colby Jack
Manchego
Havarti
Goat Cheese
Blue Cheese
Brie Cheese
Pro tip for cutting your cheese: Cut the cheeses into different shapes. Choose cubes for one kind, slices for another, and wedges for a third. Harder cheeses can easily be crumbled instead of cut.
See related article on Best Cheese For Charcuterie
Meats
Cured meats don't need to be the only meats you place in charcuterie boxes. However, it is the best meat if you plan of gifting these boxes.
Favorite cured meats for charcuterie boxes include:
Salami
Pepperoni
Prosciutto
Sopressata
Chorizo
Capocollo
See related article on Best Meats for Charcuterie
Fruits
Fruit always pairs well with cheese and crackers. That is one of the reasons why certain fruits always make it to a charcuterie board, tray, or box.
The best charcuterie box fruits include:
Grapes
Blackberries
Raspberries
Strawberries
Apple Slices
Raisins
Dried Apricots
Dried Pineapple
Dried Cherries
Pro tip: Make sure your fruit is completely dry before placing it in the charcuterie box.
Nuts
One of the easiest ways to include nuts is to toss in a few handfuls of mixed nuts. However, you can get more creative than that and actually create sections of almonds, cashews, walnuts, pecans, or macadamia nuts.
Sweet Treats
Something sweet is always needed after eating the rest of a charcuterie box! The sweet simply balances out all the savory snacks.
Favorite sweet treats to add include:
Dark Chocolate Salted Caramels
Chocolate Covered Raisins
Chocolate Covered Pretzels
Chocolate Chips
Cookies
Peanut Brittle
How to Keep Charcuterie Boxes Fresh
Charcuterie boxes can be kept inside the refrigerator before being consumed or given to friends, family, and guests. Unless you have no perishable foods inside.
It is best to only store them for a day. And if you do refrigerate your boxes, let them sit at room temperature for between 10 and 15 minutes before serving.
Remember, there are hundreds of ways to make charcuterie boxes. So, do not think you must use the items we mentioned here. You can easily grab whatever ingredients you have in your home to make a yummy charcuterie box for yourself or any guests you have.
If you haven't made a charcuterie box before, but are a pro at charcuterie boards, give these boxes a try. They are easy to make. Fun to eat out of. And wonderful for birthday gifts, holiday gifts, parties, or even picnics in the park.
RELATED PRODUCTS AND ARTICLES YOU MIGHT LIKE:
View our entire collection of  walnut cheese boards - there are many shapes and sizes to choose from. Find your perfect board for your next charcuterie tray!
Articles:
Butter Board - the New Charcuterie that is taking over TikTok
Choosing the Best Board / Serving Platter for Charcuterie
5 Best Crackers for Charcuterie
Dips, Spreads, and Sauces for Charcuterie
Best Wood For Cutting Boards (and what not to use)
We are on Amazon, see our storefront here. Use coupon code VBKBLOG10 for 10% off your entire purchase of any Virginia Boys Kitchens on Amazon. Apply the code at checkout.