Top 10 Gift Ideas for Neighbors That They'll Love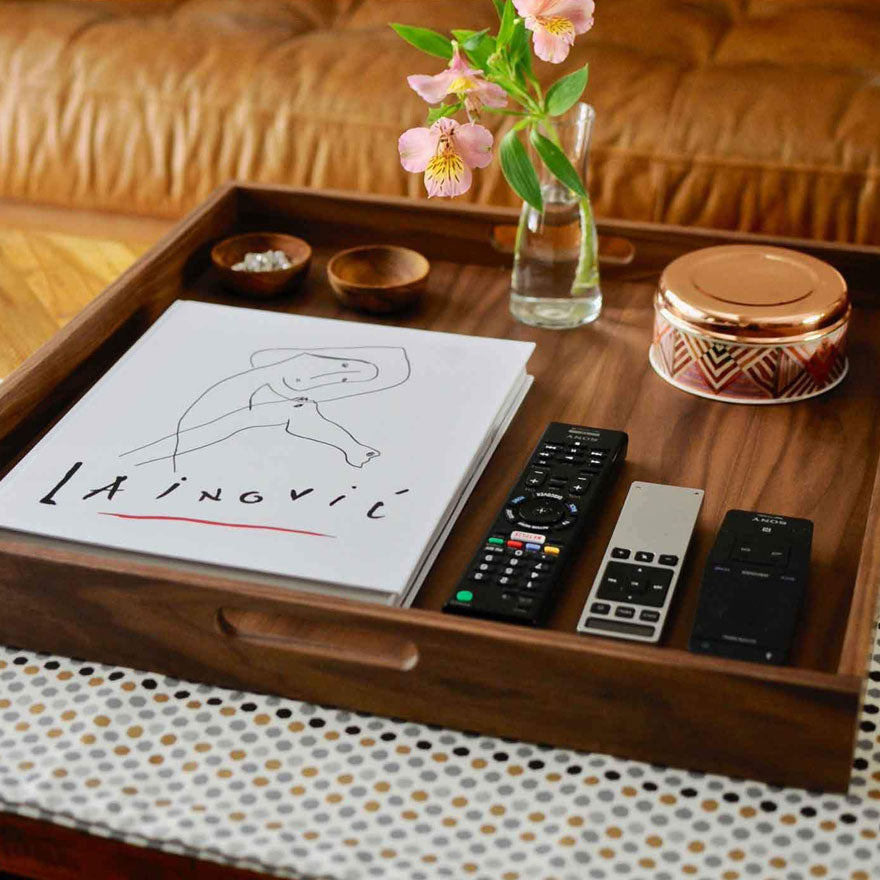 Top 10 Gift Ideas for Neighbors That They'll Love
Gift-giving plays such an essential role in our social fabric. We give gifts for many reasons, but most fundamentally, to build and reinforce relationships.
Sociologists argue that exchanging gifts is one of the quickest ways people establish relationships. In his book The Gift, sociologist Marcel Mauss holds that not giving a gift or rejecting one is equivalent to rejection.
Understandably, this creates pressure to select the perfect gift—a feat that often feels impossible.
But if you know where to look, finding the perfect gift can be a breeze. Luckily, you're looking in the right place—especially if you're in the market for the perfect neighborly gift. 
Here are our top ten gift ideas that your neighbors will love.
1- A Stunning Walnut Cutting Board

Medium 11x17 Inch Walnut Board
This impressive walnut cutting board with a juice groove is the perfect gift no matter the occasion.
The board is made from high-quality American walnut sourced using the highest standards of sustainable forestry right here in the USA. It's incredibly robust and can handle anything you throw at it, from serving appetizers and meats to creating the most stunning charcuterie arrangements when entertaining.
Even better, this board is reversible. It has a grooved side which is excellent for carving juicy meats like a thanksgiving turkey, and a flat side for chopping fruits, vegetables, and cheeses.

Extra Large 18x24 Inch Walnut Board
2 - An Enchanting End Grain Walnut Cutting Board
End grain boards are the creme de la creme of cutting boards, but our end grain walnut boards take it a notch higher.
Our board features a distinct wood brick pattern and American walnut construction. The end grain design and walnut combo make this board easy on blades and capable of lasting through a lifetime of everyday use, barbecue parties, and Thanksgiving dinners.
The end grain walnut cutting board is undoubtedly the gift to go for if you want to make a lasting impression on your neighbor.
"...was better than I expected… The quality is excellent! I will definitely be buying more items as gifts this year."
— Stella S. | ★★★★★
3 - An Essential 3 Piece Stainless Steel Chef Knife Set
Knives are arguably the most important tools in the kitchen, and with the right tools, even a humble home cook can feel like a professionally trained chef and create meals to match.
This is precisely what the 3-piece stainless steel chef knife set is—the right tools for the job!
The set comprises high-quality stainless steel knives with ergonomically designed wood handles made from black walnut. The three knives are:
An 8" chef knife
A 6" utility knife
A 3.5" paring knife
All three knives feature laser-cut, v-shaped blades from a single piece of 420HC high carbon stainless steel. The blades are further heat treated and tempered to a 58 Rockwell hardness. All these features come together to form a set of world-class knives and a gift your neighbor will truly appreciate.
4 - A Marvelous Wall-Mounted Magnetic Knife Rack
Most people toss their knives in a drawer along with their other kitchen utensils. They don't realize that doing this is a surefire way to damage their knives.
This is why we came up with the wall-mounted magnet walnut wood knife rack—the perfect solution for safely storing knives while saving on space.
Measuring 16 inches long with 14 strong magnets embedded within, the rack can hold seven knives.
Beyond storage, the knife rack is also an aesthetic addition to the kitchen. The rack is handmade here in the USA using exquisite American walnut, which matches perfectly with our collection of chef knives—in case you want to gift your neighbor the complete set.
Related: 4 Gifts for the Cook Who Has Everything 
5 - The Beautiful Cheese and Bread Bundle

Cheese and Bread Bundle 3pc Walnut Wood Cutting Display Boards
We designed the cheese and bread bundle for the charcuterie lovers among us, especially those who love to entertain. The bundle consists of three of our best boards:
The 4x20" long handle walnut board
The 8x17" charcuterie paddle with a handle
The 10x16" knob handle cutting board
The boards feature the best quality American black walnut and come pre-seasoned and ready for use.
Grab your neighbor the cheese and bread bundle and gift them not one but three top-quality wood cutting boards that'll last a lifetime.
6 - A Sturdy Chef Knife Roll
A knife rack is great for the home, but what if your neighbor is a cook who prefers to travel with their tools of trade?
We have a solution for that too—the chef knife roll. 
But our chef knife roll isn't just your typical knife roll. We partnered with Sturdy Brothers to bring you the best quality waxed canvas and leather knife roll designed to take a beating in and out of the kitchen. 
We appreciate that quality knives are a huge investment, and this roll is designed specially to protect that investment. Our knife roll features a double layer of 18-ounce waxed canvas for extra padding and puncture resistance. The roll also has:
Brass grommets for hanging when open
Full-grain leather tie sting for support
Laser-etched, full-grain leather logo
Enough room to fit an 18" knife
Grab this knife roll for your traveling chef neighbor, and they will be forever thankful.
7 - A Versatile Round Walnut Cheese Board

13.5 Inch Round Walnut Cheese Board With Groove
The round walnut cheese board is another excellent gift idea for your neighbor who likes to entertain. We refer to it as a cheese board, but in truth, that's just one of the many ways you can use this board.
Indeed, it's not an overstatement when we say this board is an entertaining game changer.
Like all our boards, the round cheese board is made using high-quality, sustainably sourced American walnut, and further features a reversible design with a juice groove.
The round shape makes it unique and ideal for a variety of uses. It's more than capable as a cheese board, a regular cutting board, an appetizer spread, or a pizza platter. You can even use it as a centerpiece tray or a trivet for hot dishes at dinner parties and barbecues.
If you're stumped about what to get your neighbor, this round walnut cheese board is the answer, no matter the occasion.
8 - A Comprehensive Care Kit for Wood Cutting Boards
High-quality wood products need some care and maintenance to keep them looking and performing at their best. That means treating and conditioning wood cutting boards, knife handles, and other wooden kitchenware with the right finishing products.
This is exactly what our complete care kit offers—expertly crafted, food-safe products specially formulated to enhance the natural beauty of wooden kitchenware.
Our complete care kit for wood consists of:
4 oz soap bar for washing
4 oz wax for extra protection
8 oz seasoning oil for nourishing
8 oz cleaning spray for a deep cleanse 
As with all our products, these are all made in the USA and contain all-natural ingredients—virgin coconut oil and olive oil, organic beeswax, and essential oils.
If your neighbor is a fan of quality wooden kitchenware, this care kit is one of the most thoughtful gifts you could ever give them.

Medium 11x17 Inch Walnut Board
9 - A Timeless Walnut Serving and Table Tray
A wood serving tray is one of the cornerstones of a well-equipped kitchen. It's a versatile and fashionable tool that can be used to present and serve food and drinks when entertaining.
It can also be used as:
A lap tray for dinner in front of the TV
An appetizer tray for a casual gathering
A cocktail tray for a formal celebration
Indeed, there's no shortage of uses for a wood serving tray, and no matter the case, a quality walnut serving tray is sure to add beauty and function. 
Our walnut trays are made with high quality, sustainably sourced wood and interlocking dovetail joints for durability. This makes the trays capable, versatile workhorses, and thoughtful gifts perfect for every occasion. 
"This was a gift for a friend…so impressed with the elegance and quality of this product. I'm extremely happy…"
— Regina B. | ★★★★★
Related: Why Every Homeowner Needs At least One Serving Tray
10 - The Virginia Boys Kitchens Cast Iron Scrub
Cast iron cookware can be notoriously difficult to clean. It's not dishwasher safe, and even when cleaning it by hand, you have to be careful not to ruin the seasoning.
But it need not be this difficult. Cleaning your cast iron pots and pans can be a breeze with the right tools.
This is what makes the Virginia Boys Kitchens cast iron scrub such an ideal gift. The scrub is specially designed to remove stubborn food stains and rust spots and restore cast iron cookware. It's made with high quality, all-natural walnut husks and essential oils, which provide a gentle scrub and eliminate odor.
Grab the Perfect Gift For Your Neighbor
So there you have it—these are our top ideas for gifts that your neighbors will love. But that's not to say that's all we have to offer.
At Virginia Boys Kitchens, we have a wide selection of the best quality wood kitchenware all made from sustainably sourced wood, from walnut cutting boards to exquisite wood serving trays and so much more.
All you need is a little creativity when shopping for your gifts. For instance, here's a brief table showing some unconventional uses for our cutting boards.
You can read more about these unique uses for cutting boards here for more inspiration. 
Otherwise, you can visit our online store today and grab your neighbor a perfect gift.
Share on Instagram:
We are on Amazon, see our storefront here. Use coupon code VBKBLOG10 for 10% off your entire purchase of any Virginia Boys Kitchens on Amazon. Apply the code at checkout.