4 Beautiful Thank You Gifts to Show Your Appreciation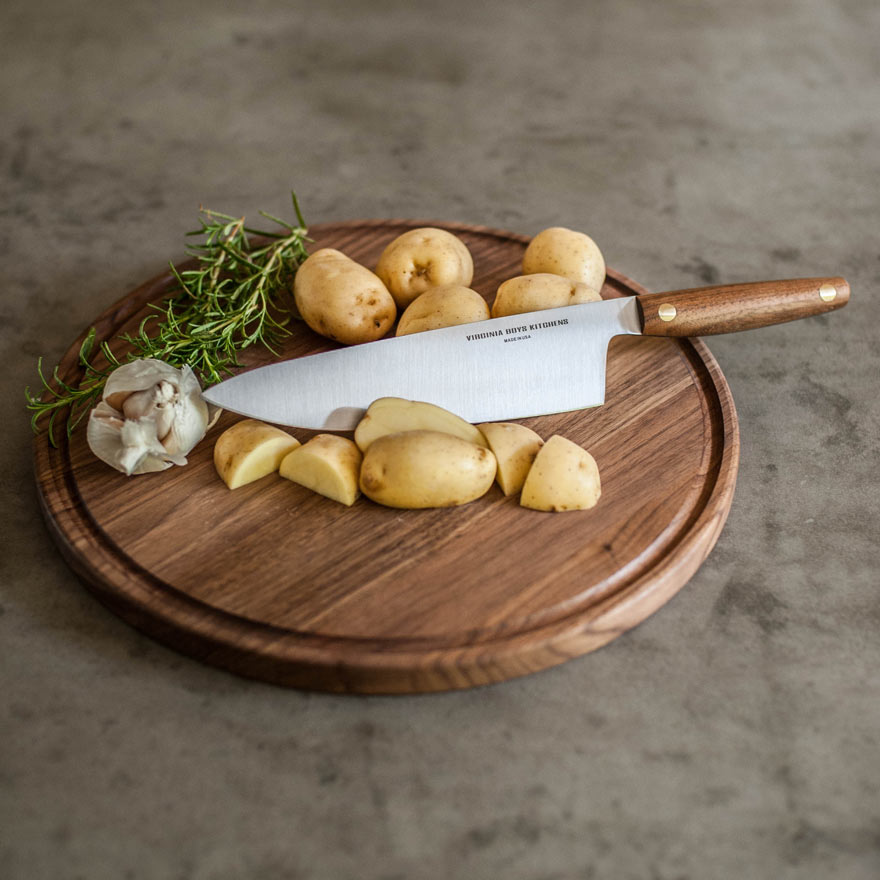 4 Beautiful Thank You Gifts to Show Your Appreciation
Oftentimes, we want to show people how much we appreciate them but feel that a thank you note or simply saying thank you is not enough. Let's talk about some thank gifts that really show your appreciation.
Getting gifts for people who are close to you helps fill that void left by plain and simple words and also contributes to building stronger ties.
However, you can agree that finding the best gifts to show appreciation may sometimes be challenging. So, to help you, we've come up with a list of unique thank you gifts to show gratitude to the people you love. We also discuss:
Why thank you gifts show you've thought about the gift receiver.
Why wooden cutting boards are the best kind of thank you gifts.
Why high-end walnut cutting boards are better than cheaper plastic ones.
1 - Custom Round Walnut Cheese Board

Small 10.5 Inch Round Walnut Cheese Board
A well-displayed selection of cheese on an end-grain wooden cutting board looks delicious during parties or holiday entertainment. Plus, pairing this divine selection with classic wines like Pinot Noir adds a touch of sophistication and complexity to your party.
A wooden cheese board not only shows your visitors that you're willing to go the extra mile, but the species of the wood and how it accentuates the cheese creates a distinction in your party. See the entire collection of made-in-usa walnut wood cheese boards here.
Where Art Meets Functionality
Displaying a wedge of Parmesan cheese on a vintage walnut wood board, for example, evokes more of a feeling of refinement than using typical wood boards or species that may end up absorbing the cheese's flavor.
All our cheese boards are made from treated walnut, which is among the best wood for making cheese boards thanks to its high resistance to cuts, beautiful dark color, and rustic feel. Furthermore, our rounded cheese boards allow you to visualize the best regions to place your items, preventing them from falling off the board.
Although there are other materials used to make cheese boards, a wooden board, especially one made from walnut, adds a touch of elegance to your kitchen. Besides, it makes your guests feel at one with the earth by bringing nature into the dining experience. Thank you gifts with this level of thought will really show that you care.
The table below shows how a wooden cheese board stacks up against other materials used to make cheese boards.
| | | | |
| --- | --- | --- | --- |
| Feature | Wood Board | Marble Board | Plastic Board |
| Durability | Highly durable | Durable | Prone to breakage |
| Eco-friendliness | Environment friendly and recyclable | Leaves less carbon footprint during extraction and is highly recyclable | Not easily disposable and is non-biodegradable |
| Resistance to scratches and stains | Highly resistant to scratches, stains, and dents | Highly resistant to scratches but affected by acids thereby leaving stains | Less resistant to scratches and stains |
| Porosity | High-quality wood materials like walnut are semi-porous | Non-porous | Non-porous |
| Hygiene | Easy to clean and inherently antibacterial | Very easy to clean and resistant to bacteria | Dishwasher friendly but if not properly cleaned bacteria can hide in the cuts |
| Aesthetics | Highly appealing, customizable, and easy to personalize by engraving a logo, name, or message | Aesthetically pleasing and easy to engrave names and designs | Easy to engrave a design |
2 - Wooden Coffee Serving Table Tray

16.5 Inch Round Walnut Wood Serving Tray
A serving wooden coffee tray looks stunningly gorgeous as kitchen decor. For example, if the recipient is a huge fan of minimalistic wood decor on their dining table, they can use the coffee tray to place coffee coasters and accommodate other decorative items on their dining table.
And if your friend wants to make their better half feel special, they can use it to serve breakfast in bed. A 20 X 15-inch wooden coffee tray is spacious enough to serve a delicious breakfast: a mug of coffee, bitings, and include a tiny arrangement of flowers.
A Serving Tray Is Versatile Thank You Gift
They can also use it as a serving tray during parties to serve drinks, beverages, and even fruit platters.
At Virginia Boys Kitchens, our wooden trays are made from sustainably grown walnut wood in the US. For every product you buy we make sure to plant a tree. That way, we ensure that there's a balance between the amount of wood collectibles we manufacture and the environment.
3 - Stainless Steel Chef Knife With Walnut Handle

8 Inch Stainless Steel Chef Knife With Walnut Handle
An 8-inch long chef knife with a walnut handle will give your friend a cushy grasp while chopping meat or vegetables. The knife will be a handy tool to slice, chop, or even dice the meat during barbecues.
To add beauty to the gift, you can pair it with other collectibles to help spice things up in your friend's kitchen.
Expert Tip: When choosing a chef knife, make sure to pay attention to the anatomy of the knife. That is, from the handle type (wood is more ergonomic) to the line of the blade that enables you to make swift cuts.
4 - Care Kit for Wood Cutting Boards

Complete Care Kit For Wood Cutting Boards
A kitchen with aesthetic wood kitchenware won't be complete without a wood care kit.
Did you know? The average lifespan of a well-maintained cutting board is seven years. To keep your boards in good condition and ensure they last longer, you'll need to oil and wax them constantly.
At Virginia Boys Kitchens, we're committed to helping you maintain your precious kitchenware. All our products, including wood care oil and wax:
Are locally made in the USA
Are food safe
Contain antimicrobial properties
Made from organic coconut oil coupled with a hint of orange oil and rosemary extract
After buying one of our care kits, here's what one of our customers had to say.
"I bought a walnut cutting board and supplies as a Christmas gift for my son. It is a beautiful, well crafted cutting board that will last him and his wife forever."
— Nancy, USA
The wood care kit comes with wood friendly soap, wax conditioner, seasoning oil, and disinfectant spray. These products enable you to moisturize your cutting board, wax it to make it waterproof and non-porous, and sterilize it. A perfect addition to your other thoughtful thank you gifts!
For more guidance, you can check our guide on cleaning a wood cutting board and learn the best practices for maintaining your cutting boards.
Finding the Best Appreciation Gifts
Whether you want to make a simple gesture or want to go the extra mile when expressing your gratitude it's important to put some thought into your thank you gift. For example, a custom cheese board with your friend's name engraved on it shows that you're willing to go an extra step to show appreciation.
Virginia Boys Kitchens at your rescue. Our wood products are made from high-quality US-grown walnut wood known for its luxurious dark color and durability. We're also committed to conserving the environment, so we make sure to plant a tree for every product you order.
Even better, all our products are eco-friendly and naturally extracted. Talk about our packaging solutions which are 100% recyclable or our ink printing products which are vegetable-based.
You can check our product catalog for more fascinating wood kitchenware to gift your loved ones.
Share on Instagram:
We are on Amazon, see our storefront here. Use coupon code VBKBLOG10 for 10% off your entire purchase of any Virginia Boys Kitchens on Amazon. Apply the code at checkout.